Mayfair Area Guide
Mayfair is one of London's most prestigious and affluent neighborhoods, known for its elegance, high-end shopping, fine dining, and cultural attractions.
Located in the heart of the city, Mayfair offers a unique blend of historical charm and modern luxury.
Here's a guide to help you navigate and explore this remarkable neighborhood:
Explore Green Spaces: Mayfair is home to several beautiful parks and gardens where you can relax and escape the hustle and bustle of the city. Don't miss Grosvenor Square, Berkeley Square, and Mount Street Gardens. These green spaces provide a tranquil oasis amidst the vibrant city atmosphere.
Discover Art and Culture: Mayfair is renowned for its art galleries, museums, and cultural institutions. Visit the Royal Academy of Arts to explore stunning exhibitions and experience the world of contemporary art. Other notable galleries in the area include Hauser & Wirth, David Zwirner, and White Cube. Additionally, the Handel & Hendrix Museum offers a unique glimpse into the lives of two legendary musicians.
Luxury Shopping: Mayfair is synonymous with luxury shopping, housing some of the world's most exclusive brands and flagship stores. Explore the famous Bond Street and Mount Street, where you'll find high-end fashion boutiques, renowned jewelry stores, and luxury brands like Chanel, Louis Vuitton, and Tiffany & Co.
Fine Dining: Indulge in culinary delights at Mayfair's upscale restaurants and Michelin-starred eateries. From traditional British cuisine to international flavors, the neighborhood boasts a diverse range of dining options. Whether you're in the mood for a lavish afternoon tea or a gourmet dinner, you'll find a wealth of exceptional restaurants to satisfy your palate.
Historical Landmarks: Take a stroll through Mayfair's streets and marvel at its architectural wonders. Don't miss iconic landmarks such as the magnificent Grosvenor House, Claridge's Hotel, and the historic Burlington Arcade. You can also explore the fascinating history of the area by visiting the Handel House Museum and Apsley House, the former residence of the Duke of Wellington.
Exclusive Clubs and Bars: Mayfair is renowned for its exclusive members' clubs and glamorous bars. If you're seeking a sophisticated evening, indulge in the luxurious atmosphere and world-class cocktails at establishments like Annabel's, The Connaught Bar, or The Arts Club.
Events and Festivals: Throughout the year, Mayfair hosts various events and festivals. Keep an eye out for art fairs, fashion shows, charity galas, and seasonal celebrations. The Mayfair Art Weekend and the Grosvenor Square Summer Festival are just a few examples of the vibrant events that showcase the neighborhood's cultural vibrancy.
Luxury Hotels: Extend your stay in Mayfair by indulging in the neighborhood's exquisite hospitality. From historic grand hotels to contemporary luxury accommodations, Mayfair offers a range of high-end hotels that ensure a memorable and luxurious experience.
Remember, Mayfair is a neighborhood that exudes elegance and sophistication, so be sure to dress accordingly and embrace the refined atmosphere. Whether you're seeking cultural experiences, world-class shopping, or memorable dining experiences, Mayfair is sure to captivate you with its charm, history, and undeniable allure.
Looking for an office in Mayfair
Renting a serviced office in Mayfair provides businesses with a prestigious postcode to impress clients and bolster their reputation. Businesses also enjoy excellent amenities, beautifully-designed buildings and a location in one of the world's cultural and commercial hubs.
The serviced office market in Mayfair is very competitive – rates are higher than ever before, and it has become the most expensive place in the world for office space.
The Crossrail development at Bond Street Station has provided a great transport boost to the area.
The popular locations of Brook Street, Hanover Square or Stratton Street are ideal for companies looking to move into Mayfair.
Costs
Serviced office costs in Mayfair typically range from £700 – £1300 per desk, although this will vary depending on requirements and exact location.
Costs are inclusive of amenities, which can cover internet, meeting rooms, IT and administrative support, lounges and kitchens, car parking, videoconferencing and AV equipment, among others.
Office sizes
Complete Office Search offer a great variety of flexible office solutions in Mayfair across a range of sizes, and are able to accommodate most enquiries, from one person through to 100 people or more, depending on the specifics.
Serviced office providers can be flexible with the layout of the workspace, and are happy to discuss partitioning to fit a particular requirement.
Co-working is not particularly prevalent in Mayfair; the majority of requests are for serviced office space however we can help with co-working and hot desking in some of our Mayfair serviced offices.
Why choose Mayfair?
As mentioned, the prestigious location, excellent transport links and quality of the buildings and amenities are all reasons why businesses choose to make Mayfair their corporate home.
Furthermore, serviced offices are an ideal option as conventional leases in Mayfair are expensive and extremely hard to come by.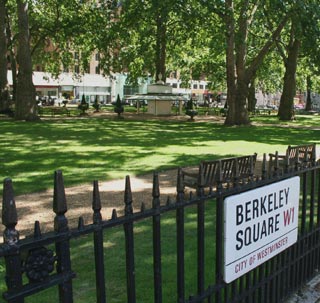 A closer look at Mayfair
These are the most popular areas in which to rent office space:
A desirable Mayfair location, prestigious Berkeley Square provides businesses with a reputable postcode in a thriving commercial area
Green Park Underground station is located nearby, while the London Bus route C2 also passes through the square
The area boasts excellent local amenities, and Regent Street, Oxford Street and Hyde Park are a short walk awa
Hanover Square
Hanover Square is a highly sought-after Mayfair location – Oxford Circus and Bond Street Underground stations are a five-minute walk away, and there are many designer shops, top-rated restaurants, nightclubs and private members' clubs in the area
The square dates back to 1713, when it was developed as a fashionable residential address
Brook Street, Dering Street, Hanover Street, Harewood Place and Princes Street all converge on Hanover Square, creating a vibrant commercial hub
Vogue magazine is one of the big-name tenants in the square
Brook Street
Brook Street runs from Hanover Square to Grosvenor Square, and is home to a number of famous tenants: Claridge's, a five star hotel; Le Gavroche, a world famous restaurant; the Handel House Museum; and the Argentinean embassy
Oxford Circus and Bond Street Underground stations are a short walk away, for easy transport access
Apart from the good transport links, businesses in the area benefit from excellent local amenities, the prestigious postcode and a location close to potential partners and clients
Food and drink
Mayfair is well-known for its busy and vibrant atmosphere, elegant hotels, variety of restaurants and sophisticated cuisines, from traditional English to classic French. In one of the London's most exclusive areas, you will find a selection of Michelin starred restaurants and trendy bars. You will be spoilt by choice when eating and drinking in Mayfair; you can choose from light meals, exquisite fine dining dishes, tasty brunches and mouth-watering afternoon teas to suit your needs.
If you are looking for serviced offices in Mayfair please contact us on 0203 633 2373 to speak to one of our Mayfair office space specialists, and take advantage of our experience and free office search service.