Soho Area Guide
A brief introduction to Soho
Soho is London's entertainment centre.
Looking for an office in Soho
Renting a serviced office in Soho provides businesses with a W1 postcode to impress clients and bolster their reputation.
Businesses also enjoy excellent amenities, beautifully-designed buildings and a location in one of the world's cultural and commercial hubs.
The serviced office market in Soho is very competitive – rates are higher than ever before, and it is among one of the most expensive parts of London for office space.
The Crossrail development at Tottenham Court Road Station will provide a great transport boost to the area – the station's ticket hall will be located in very close to Soho Square, not to mention the existing benefits from Oxford Circus and Piccadilly Circus Underground Stations.
Costs
Serviced office costs in Soho typically range from £450 – 1000 per desk, although this will vary depending on requirements and exact location.
Costs are inclusive of amenities, which can cover Internet, meeting rooms, IT and administrative support, lounges and kitchens, car parking, videoconferencing and AV equipment, among others.
Office sizes
Complete Office Search offer a great variety of flexible office solutions across a range of sizes, and are able to accommodate most enquiries, from one person through to 100 people or more, depending on the specifics.
Serviced office providers can be flexible with the layout of the workspace, and are happy to discuss partitioning to fit a particular requirement.
Co-working is becoming more popular in Soho however the majority of requests are for private serviced office space.
Why choose Soho?
As mentioned, the prestigious location, excellent transport links and quality of the buildings and amenities are all reasons why businesses choose to make Soho their corporate home.
Furthermore, serviced offices are an ideal option as conventional leases in Soho are expensive and extremely hard to come by.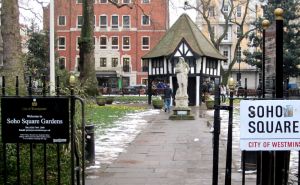 A closer look at Soho
These are the most popular areas in which to rent office space:
Soho Square
A desirable Soho location, prestigious Soho Square provides businesses with a well known address in a thriving commercial area
Tottenham Court Road Underground station is just a few minutes walk and will be a main Crossrail ticket office
The area boasts excellent local amenities with several great places to eat and drink just a short walk away
Carnaby Street
Regent Street
Why do businesses love Soho?
We asked a number of local businesses in the Soho area exactly why they love working there.
Food and drink
Soho is well-known for its busy and vibrant atmosphere