Rent a Serviced Office and focus on running your business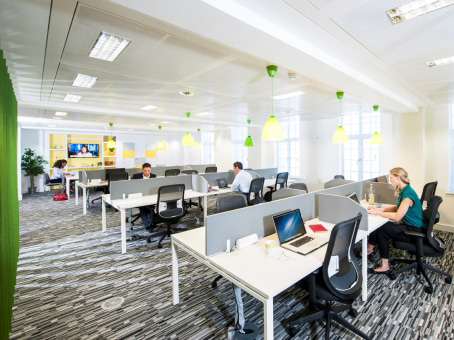 Prior to the internet one of the traditional methods of finding office space consisted of, driving around, asking friends and colleagues, posting adverts, looking in classifieds, etc and once again this was a very time consuming process – time away from running your business.
For many SME's and start-up businesses knowing where to look for office space isn't as obvious as it may seem. Several people are initially excited about finding their new office, until they realize how time-consuming and costly it becomes.
There are lots of things to consider when looking for an office and asking yourself the following questions will be a good starting point – How long will the business be there? Is it a good area to develop the business in? Will the office be big enough if and when the business grows? How flexible are the lease terms? Is the building wired with CAT 5? How much will fit-out cost? Is the office location convenient for both staff and clients? Many more questions will pop up as the search for office space develops.
If you are looking to lease an office, once a suitable space is chosen there are several start up costs that you have to take into consideration such as legal costs, purchasing office furniture and equipment, phones, cables, computers, printers, faxes, etc. The amount of money it takes to get an office up and running can really affect a businesses cash flow before you've even moved in not to mention the dilapidation's when you move out.
Luckily there is another option. Serviced offices are ready to go and come fully equipped with office furniture and equipment, IT connections, and everything else you need to work. Most serviced offices also offer shared facilities such as kitchens, conference rooms, break out areas, toilets/showers, meeting rooms and reception areas as well as additional a la carte services. Best of all, you can get office space in prime business locations like Central London and other prestigious areas such as New York, Hong Kong, Munich and Dubai just to name a few.
It makes good commercial sense to consider renting a serviced office because instead of wasting valuable time each month running your leased office and having to deal with any issues that arise; in a serviced office they manage the building, the space itself as well as the services and infrastructure allowing you to run your business. Furthermore when letting a traditional office you are responsible for not only the start-up costs but telephones lines, cabling for internet connections, utilities, and other monthly expenses. Serviced office space not only saves you time and money but also gives you flexibility.
The flexible lease options serviced offices offer give you the opportunity to grow and contract without having a long term lease to worry about. More often than not when business owners need more space they have to pay to get out of a lease. Serviced offices can give you more space as you need it, or offer short term leasing if you need to move entirely.
The bottom line is flexibilty allows you to adapt you office to suit your business and not the other way round avoiding significant cost and complications at the same time.
There are a great number of advantages to leasing a serviced office. The best way to find out more information is to find a serviced office agent such as Complete Office Search who can give you options on where office space is available and cater to your business needs.
Best of all, this service is free to use.